What is proposed?
A deep-water wharf at Smith Bay, suitable for international timber, passenger and general cargo ships. There is no such facility on KI at present. A jetty will extend into the sea to a floating pontoon berth. The outer edge of the pontoon will be in water 13m deep and there will be no requirement for dredging.
To give a sense of scale, the Smith Bay wharf will be about double the length of the Kingscote jetty, or the same length as the Granite Island jetty at Victor Harbor. Logs and woodchips will be stockpiled on shore. Woodchips will be transferred by a conveyor belt and logs by truck on the jetty.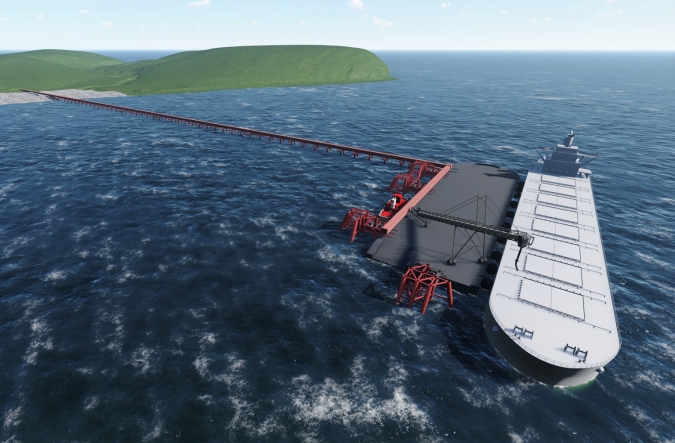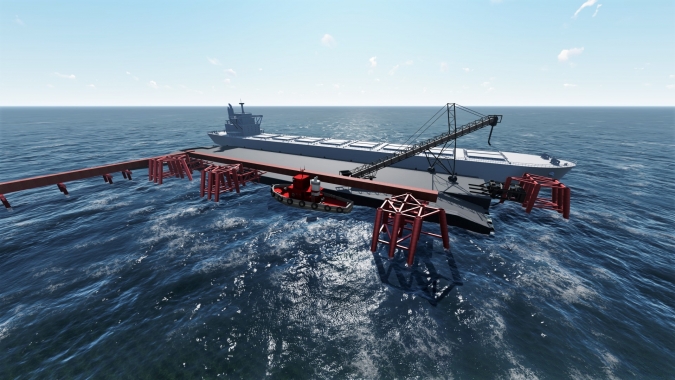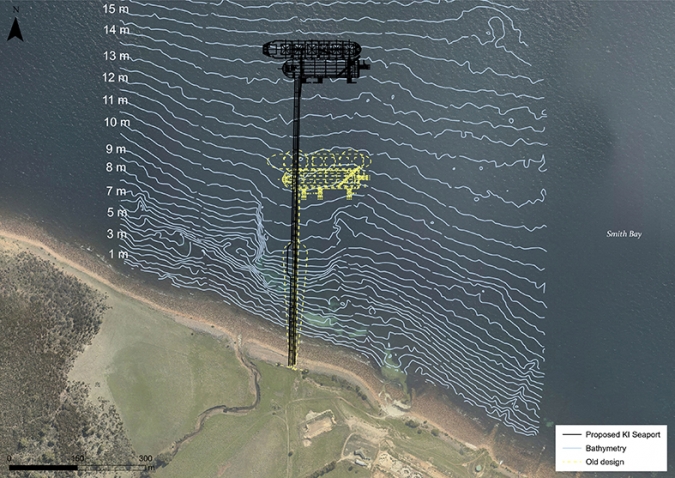 Benefits for Kangaroo Island
Once established, the Kangaroo Island Seaport will handle about 12 shipments of plantation timber a year, and will be used for about 60 days each year for timber exports. Consistent with South Australian Government requirements, the wharf will be a genuine multi-user, multi-cargo facility. Kangaroo Island Plantation Timbers Pty Ltd (KIPT) will pay to build the wharf but it will be able to be used by a variety of industries.
Download a copy of the Economic Impact fact sheet. KIPT Fact Sheet Economic Impact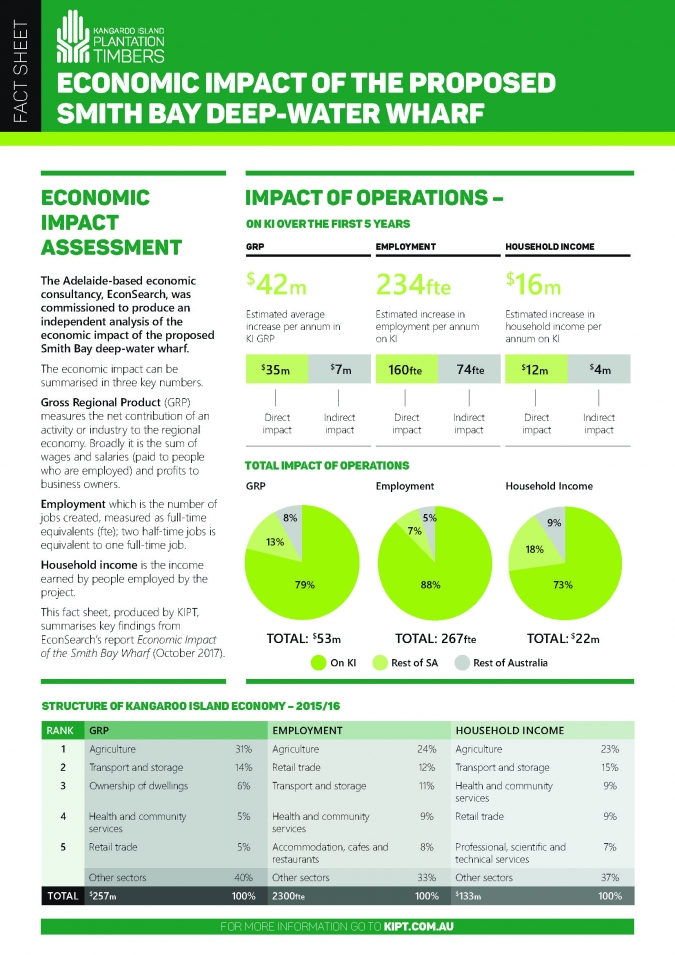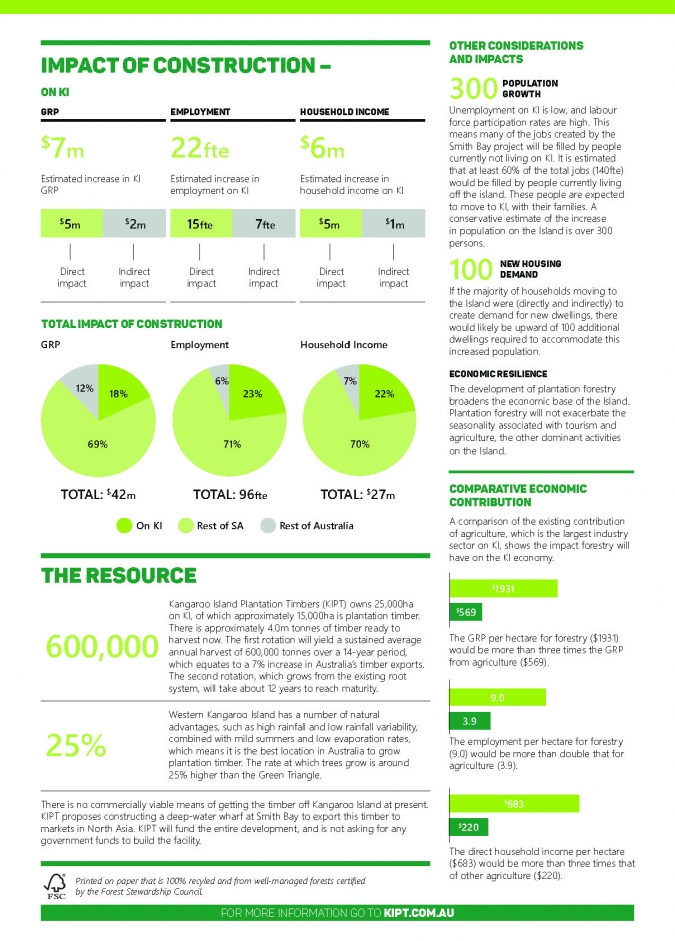 Frequently asked questions
The Kangaroo Island community has many questions about KIPT and its plans. We have developed the following FAQ in response to some of those questions.
Environmental Impact Statement for the Smith Bay Wharf proposal
The Environmental Impact Statement (EIS) for the Smith Bay wharf proposal was released for public comment on March 28, 2019, and submissions were accepted until May 28. You can read the EIS main report here.
The full EIS – including the Executive Summary and all the appendices is available on the website of the Department for Planning, Transport and Infrastructure, as well as more information.
An addendum was released for public consultation in November 2019, detailing the new design in response to feedback during the first round of public consultation in May 2019.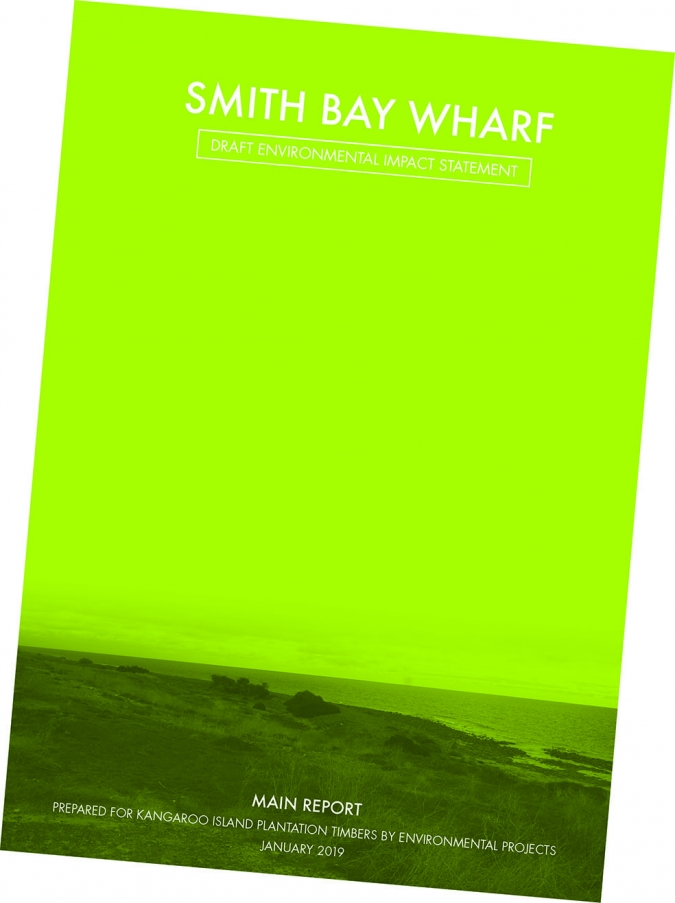 Videos of the Smith Bay site and proposed development