Forestry Field Day and Parndana Show in big weekend of events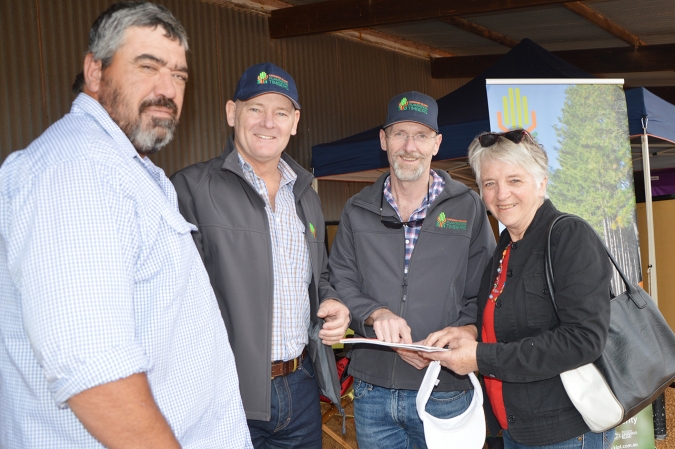 Thirty-five people took advantage of the inaugural Forestry Field Day by Kangaroo Island Plantation Timbers to learn more about forestry and plans to mobilise the industry on the Island.
On Sunday, November 17, the day started at the Macgill property on Playford Highway with a picnic at Sheep Creek dam. KIPT chairman Paul McKenzie and managing director Keith Lamb explained the history of forestry in Australia and how bluegums came to be planted on Kangaroo Island through Federal, State and local government encouragement and incentives. Macgill is the company's largest bluegum property with 1221 hectares planted in 2006. It is expected to yield about 460,000 tonnes of wood at harvest, making it one of the lowest-yield of KIPT's 36 bluegum properties – but still better than most mainland plantations.
The group then moved on to Yerda North, one of the company's pine properties on McBride's Road and heard about the harvest plans for the softwood estate.
At the third stop at Smith Bay, the crowd enjoyed afternoon tea and heard about the company's revised plans for an extended jetty at the site to export its timber logs and woodchips – with between 12 and 20 ships visiting a year. The design changes were made in response to feedback from Yumbah and others in the public consultation process earlier this year. The proposed KI Seaport is undergoing evaluation through the State Government's Major Projects process.
Directors Graham Holdaway and Shauna Black also attended, along with Dave Malone and Hugh Watters of forestry management company PF Olsen, and KIPT field staff.
Keith Lamb said he was pleased with the attendance, which included West End farmers, independent tree growers, residents from Kingscote, tour guides and potential service providers to the company. Many valuable conversations were held and information exchanged.
"We will hold further similar events as we move towards the export phase of our business. We are keen for residents to have as much information as possible so they can understand the industry and the significant benefits for the Island."
Questions were raised about roads, koalas, employment opportunities and the company's future plans.
Directors McKenzie, Lamb, Black and Holdaway also attended the Parndana Show on the previous day, where they spoke to many residents about the company's plans. On Thursday they attended the KI Business and Brand Alliance event at the KI Brewery and on Friday they were at the "Moving towards an Economic Agenda for Kangaroo Island" seminar at the Aurora Ozone Hotel, attended by Trade Tourism and Investment Minister David Ridgway.