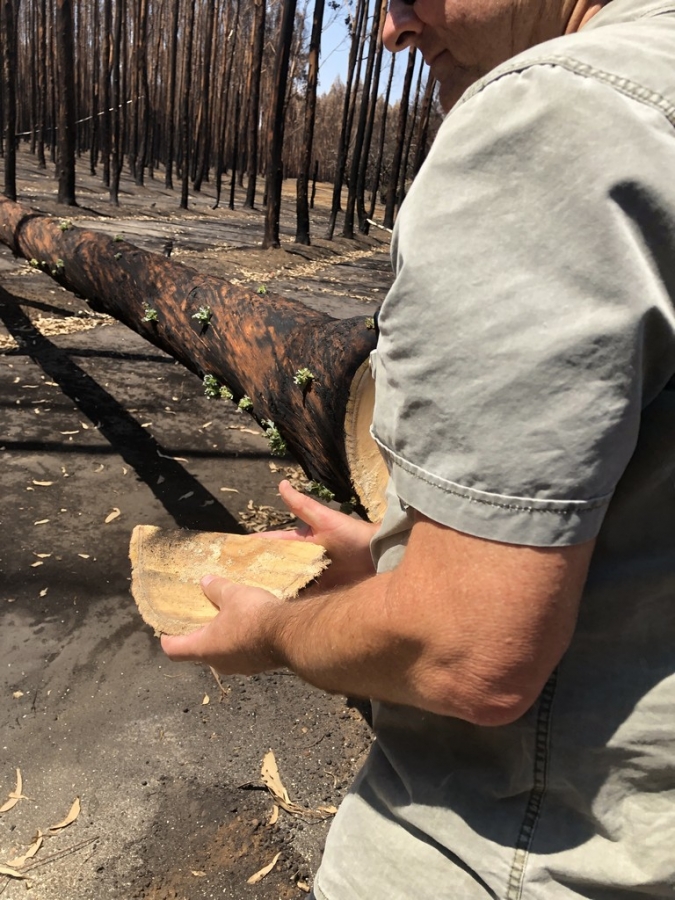 Twelve weeks since the devastating bushfires, Kangaroo Island Plantation Timbers has made substantial progress on its Business Recovery and on Tuesday the company reached a milestone when it lifted the voluntary suspension on trading of its shares.
"We have made it clear to investors and the Kangaroo Island community that we remain committed to building the Kangaroo Island Seaport and forestry operations on Kangaroo Island. Our plan is to bring the land back into full production as soon as possible. In order to do that, we must harvest and move the trees and the safest and most efficient best way to do that is to export via the proposed KI Seaport."We have kept the investor community informed of our progress during the past months and felt that we were far enough advanced in our new business plan to bring the shares back into trading. We anticipated the share price would be affected, based on our damaged treecrop and of course the impact of the COVID-19 pandemic, which is causing upheaval in economies and share markets all over the world," KIPT Managing Director Keith Lamb said.
"The alternative would be to chain and burn the plantations, which would result in ongoing smoke and carbon emissions over several years. That is not something we would wish to impose on our neighbours and the community which has already suffered the adverse effects of the bushfires."
Mr Lamb said the company had strong support from its partners as it worked through its Recovery Plan – particularly Commonwealth Bank and Mitsui Bussan Woodchip Oceania. KIPT also had good insurance, which had so far resulted in a $10 million initial payment on the treecrop (full insurance is $60m+) and a $4.2 million payment for housing that was destroyed (sheds yet to be negotiated).
"Our insurance will allow us to pay off our debt to Commonwealth Bank, re-fence our properties, get our harvest work under way and contribute to building the seaport, which will be a key piece of economic infrastructure for Kangaroo Island for many decades."
Mr Lamb said many people had asked questions about the survival of the timber and what it could be used for now that it is damaged.
"Fire-affected pine will die but will have recoverable value. It can be stored under water or under sprinklers. Some fire-affected bluegums may survive but future growth is likely to be uneconomic. The trees will be monitored, and some could be felled and stockpiled as logs, to facilitate early re-planting, or left on the stump until harvest.
"The vast majority of it can still be used for logs, woodchips or pellets but recognising that the fire-damaged timber is no longer the premium product that it was.
"It is a complex issue that we are working through. We've had great support all the way through this from our marketing partner Mitsui Bussan Woodchip Oceania, which is finding markets for Kangaroo Island timber and conducting valuable research on the types of products we can produce," Mr Lamb said.